Tax Notice to
US Shareholders
At CanAlaska Uranium LTD, we provide a Tax Notice to US Shareholders that offers crucial information on tax obligations, empowering investors to make informed decisions about their investments.
IMPORTANT TAX NOTICE
PFIC Annual Information Statement for the year ended 4/30/2022

Ordinary Earnings (US$)

Net Capital Gains (US$)

Cash/Property
DIstributions (US$)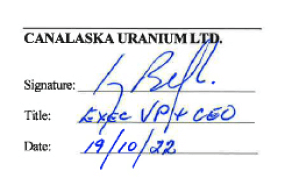 THIS INFORMATION IS PROVIDED IN ORDER TO ASSIST SHAREHOLDERS IN MAKING CALCULATIONS AND DOES NOT CONSTITUTE TAX ADVICE. U.S. TAX LAWS REGARDING PFICS ARE EXTREMELY COMPLEX AND SHAREHOLDERS ARE ADVISED TO CONSULT THEIR OWN TAX ADVISORS CONCERNING THE OVERALL TAX CONSEQUENCES OF THEIR RESPECTIVE INVESTMENT IN, AND OWNERSHIP OF SHARES OF THE COMPANY UNDER UNITED STATES FEDERAL, STATE, LOCAL, AND FOREIGN LAW.