Summary of the Nisku Property
The Nisku Property is located 10 km of the former Ruttan Mine. It is underlain by a volcano-sedimentary sequence similar to the one hosting the Ruttan deposit. Old drill holes show the presence of chalcopyrite in several horizons. A VTEM survey carried out in 2009 by Kria Resources outline a series of targets combining strong EM with good magnetic signatures.
One of these target was drilled in March 2017 and results shown in the figures below.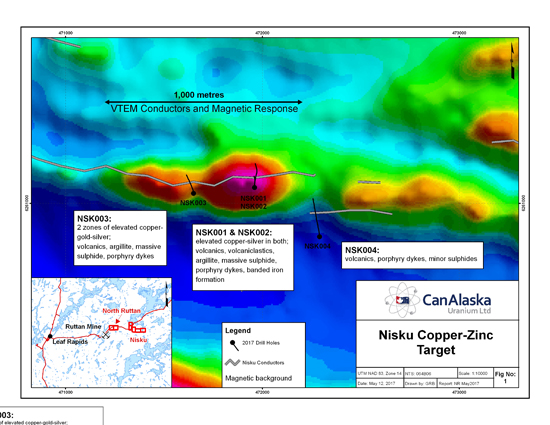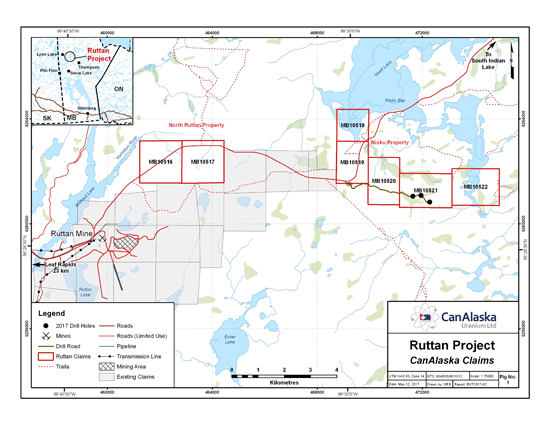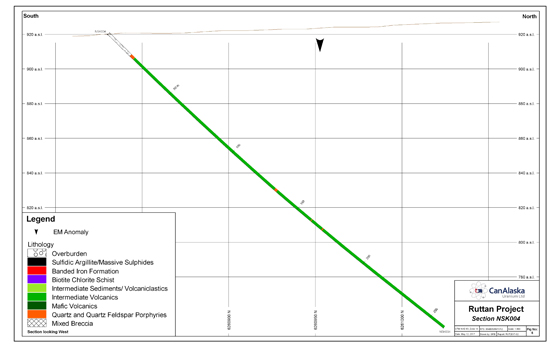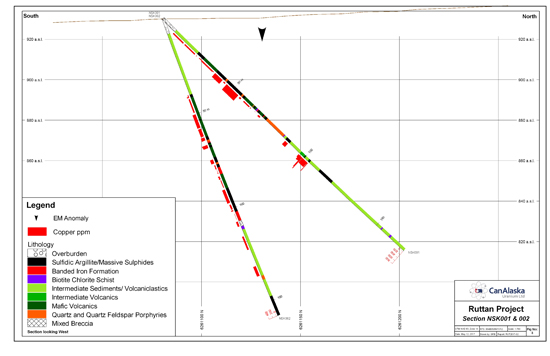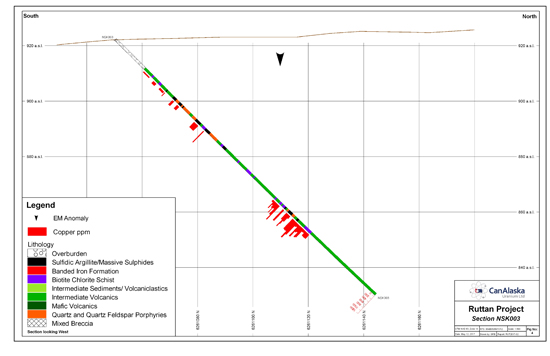 Summary of the North Ruttan Project
In 1969, Sherritt Gordon Mines drill-tested an EM target, located at the same time as the Ruttan Mine EM anomaly, 3 kilometres NE of the Ruttan mine site. Drilling encountered a sulphide bearing fault zone with 5.2 metres at 2.5 g/t gold. This drill hole became the VOL gold showing. Further drilling in 1969 and again in 1980 outlined a 1.5km long zone of massive sulphides; but the zone vas classified as a vein gold deposit hosted in a quartz-sericite shear zone, so did not attract any further attention for those looking for VMS deposits.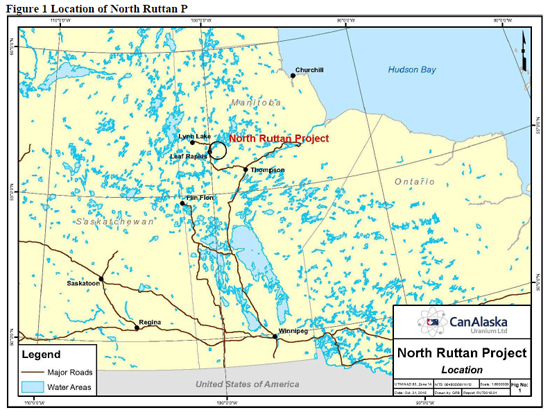 The assessment records now contain digital versions of the 1990's SPECTREM Airborne surveys, and CanAlaska's staff has been able to model this data. The large geophysical target north of the Ruttan Mine (see image below) was selected for staking and has become the North Ruttan project.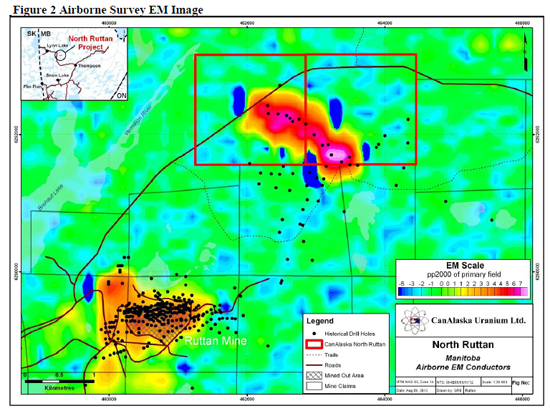 The geophysical data, and the historical diamond drilling indicate a large volcanogenic massive sulphide (VMS) system. This historical drilling was originally targeted as an EM conductor, but found gold mineralization (DDH Vol 3: 1.3g/t gold reported) Later drilling discovered that the target hosts what appear to be multiple lenses of VMS style mineralization over a 1.5 km long zone, with associated gold (DDH RPE 80-06: 9.1gm/ton gold see Table 1). There are separate anomalous copper and zinc zones, within with drill intercepts up to 60 metres of sulphide mineralization intersected in core (Table 1). Copper mineralization is more prevalent in the western area, and zinc mineralization to the east. This target is within the immediate vicinity of the previously mined 80 million tonne Ruttan VMS deposit, and has only been wide-spaced tested to depths of approximately 100 metres.
The 82.8 million tonne Ruttan copper-zinc VMS deposit was discovered in 1969. It is classified as one of the larger VMS deposits in the world. It was mined to supply concentrate to the Flin Flon smelter, with 55.7 million tonnes extracted between 1975 and 2002. Geologically large to giant volcanic massive sulphide (VMS) deposits such as Ruttan rarely occur in isolation, they typically form camps or clusters of deposits consequently based on targeting and prospectivity analysis conducted to date, indicates that the Ruttan deposit and immediate underexplored region holds good to excellent exploration potential.
Figure 3 The Ruttan deposit grade-tonnage in relation to other VMS deposit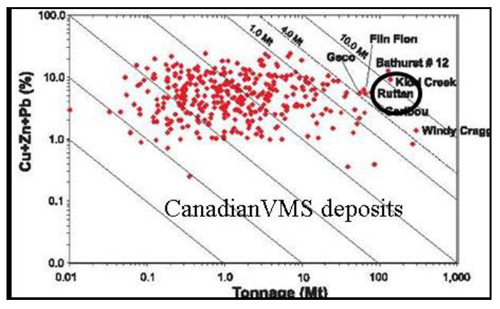 The significant drill intercepts, compiled from historical Manitoba Mines and Energy assessment reports show that the wide zones of sulphide mineralization are near a sedimentary-volcanic interface.
Rhyolite zones are present, as are fine banded sediments, volcanic units and intrusives. This is similar to the nearby Ruttan deposit. The drill holes are detailed in assessment reports and from sketches and cover the length of the mineralized zone. Exact drill hole locations will require field checking. Mineral intersections have been compiled by the Company, and the average results are detailed in Table 1 below. Infrastructure is well established, and access to the target area is excellent.
The mineralized zone was first drill tested in 1969 with 6 shallow drill holes, each of which intersected massive sulphide mineralization at shallow depths, but more interestingly there was associated gold mineralization. Historical drill hole Vol 3 was reported to have intersected 17 feet (5.2 metres) of 0.07 opt (2.1 g/t) gold. Follow-up drilling in 1980, drill tested the target on wide spacing, up to 200 metres between drill holes, and to a depth of approximately 100 metres. These drill holes all intersected varying levels of copper-zinc-gold mineralization in a VMS environment. Follow-up infill drilling was recommended, but not carried out. The compilation of available assay information compiled from assessment reports is listed in the table below.
Table 1: Examples of Historical Drill Intercepts within the North Ruttan target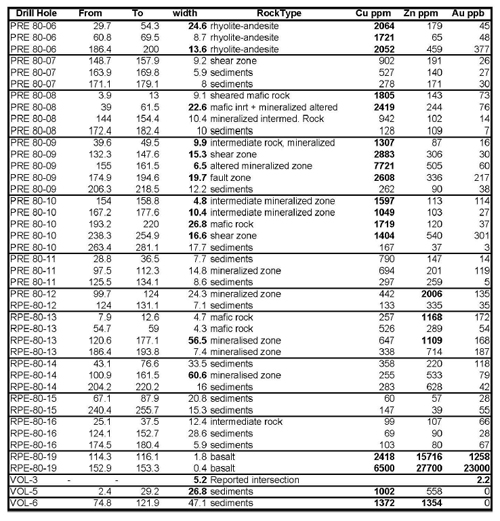 Figure 4 North Ruttan Section showing sulphide intersections in red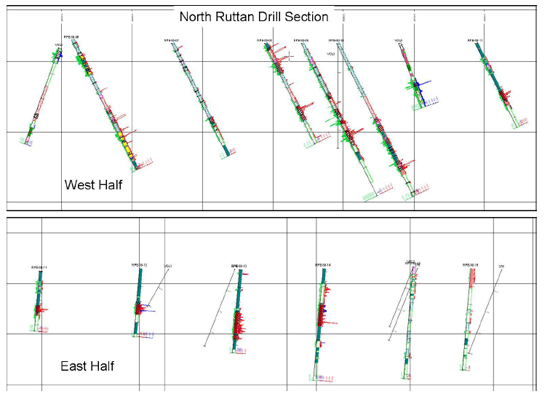 Figure 5: Ruttan Mine Section, with insert to scale of part of the North Ruttan drilling.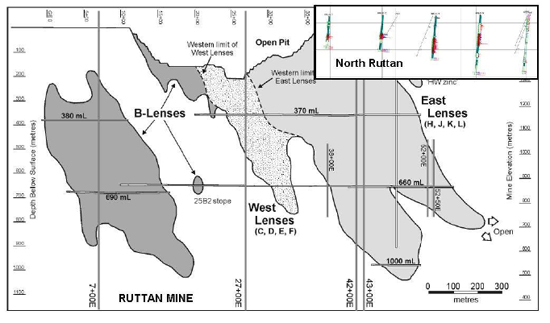 Figure 5 compares the size and scale of the ore lenses at the Ruttan mine with the shallow interval drill tested at the North Ruttan prospect on an EM target of equivalent size to the Ruttan Mine EM target.
Ruttan Mine Description
The Ruttan ore bodies are steeply dipping lenses of massive sulphide mineralization separated by faults of various orientations. The sulphides outcrop over a distance of 1.5 kilometres and have been tested to a known depth of 1.1 kilometres. In the West Mine the B lens has a strike length of between 350 and 400 metres and typically it is 10 to 15 metres thick. Over short distances, along strike and down dip, it varies from 5 to 40 metres thick. This lens does not outcrop and extends from 170to 1,040 metres below surface, with a general plunge of 55° to 65° to the south-southeast. The B lens in the Main Mine is laterally continuous at surface with a strike length of approximately 500 metres and a steep dip to the south-southeast. The lens is typically 10 to 15 metres thick but locally it varies from 5 to 60 metres over shorter distances. In the down-dip direction the B lens separates into a series of discrete, regularly spaced copper-rich ore shoots that plunge steeply to the southeast and exhibit progressively decreasing strike lengths and thicknesses with depth. Within the ore shoots, zones of zinc-rich mineralization and large diabase boudins trend at a slight counter-clockwise angle to the strike of the lens. The deepest ore shoot ultimately pinches out 370 metres below surface.
The West group of lenses (C, D, E, and F) constitutes a complex ore body. At surface the West lenses have a maximum strike length of approximately 350 metres and contain intervals of massive sulphides that are up to 75 metres thick. The thickest sulphide accumulations are along the western termination of the West lenses and define a prominent copper-rich shoot plunging 55° to 65° to the southeast, and terminating around 770 metres below surface.
Conclusion
The North Ruttan project is located adjacent to the main road from Leaf Rapids to South-End, and has excellent infrastructure and access.
The large EM target has sufficient historical drilling to identify it as a large VMS sulphide deposit. VMS deposits are generally expected to occur in clusters. The modern airborne geophysical surveys available for this area provided CanAlaska staff with the ability to rapidly image and determine the most prospective targets within the sedimentary-volcanic sequence.
At the North Ruttan Project, the target is similar in size to the signature of the nearby Ruttan Mine. The confirmation of separate copper zinc and gold mineralized intervals within the North Ruttan drilling gives greater certainty for zoned or multiple mineralized lenses between and below the existing wide spaced and shallow drill holes. Drilling is needed to test for multiple mineralized lenses, similar to those of the adjacent Ruttan deposit. Further drill testing was recommended by HBMS, but was never carried out.