Multiple Priority Targets Associated with Regional Scale Fault Structures
Preparation Underway for First Drill Program
Drilling Continues at West McArthur JV and Key Extension Projects
Vancouver, British Columbia–(Newsfile Corp. – March 27, 2023) – CanAlaska Uranium Ltd. (TSXV: CVV) (OTCQX: CVVUF) (FSE: DH7N) ("CanAlaska" or the "Company") is pleased to announce completion of a high-resolution airborne Versatile Time Domain Electromagnetic ("VTEM Plus") survey on it's 60%-owned Geikie project in the Athabasca Basin (Figure 1). The purpose of the VTEM Plus survey was to identify basement conductors, characterize lithological and alteration variations, refine the structural setting, and prioritize drill targets for the Geikie project. Preliminary survey results confirm the objectives have been met, with multiple target areas identified that consist of conductive anomalies associated with regional-scale fault structures (Figure 2). The survey was completed by Geotech Ltd. of Aurora, Ontario and consisted of 1,399 line-kms of surveying at 400 m line spacing in the northern part and 200 m line spacing in the southern part of the property.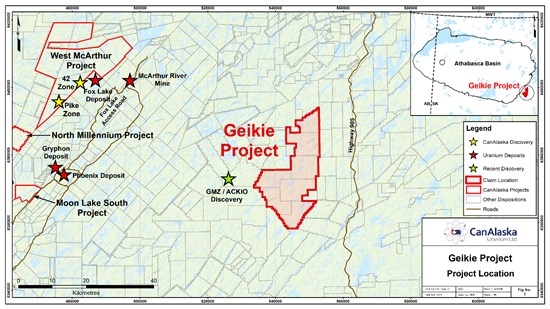 Figure 1 – Geikie Project Location
Preliminary VTEM Plus Survey Results
The complete preliminary VTEM Plus data for the Geikie project, which still requires full processing and levelling, has been received. The initial preliminary data highlights a series of priority target areas that require further detailed investigation and modelling (Figure 2).
Figure 2 – Locations of VTEM Plus priority targets over Channel 10 VTEM data (left) and 2022 magnetic data (right).
The primary target areas consist of a strong northeast trending conductor system, striking through the southern half of the property. A series of splays and offsets along this conductor are visible, often in correlation with intersections of regionally significant deep-seated north-south trending faults, interpreted to be part of the Tabbernor Fault System. In addition, historical drillholes completed on this conductor trend identified stratigraphically-controlled and structurally-enhanced graphite proximal to the main conductor. Graphite rich metasedimentary rocks are important hosts for basement-hosted uranium targets within and along the margins of the Athabasca Basin.
The secondary target areas include conductivity anomalies associated with prominent regional north-south trending faults, also interpreted to be part of the Tabbernor Fault System, that were previously delineated in the airborne magnetic and radiometric survey (see News Release dated October 18th, 2022). Recent discoveries near the Geikie project have spatial associations with north-south trending Tabbernor fault features. These deep-seated structural corridors may provide fluid conduits for the circulation of uranium-bearing fluids into the basement rocks. Uranium-bearing fluids penetrating conductive basement rocks provide a favourable depositional environment for basement-hosted uranium mineralization. Alteration associated with a mineralizing event may appear as a conductivity high along or in proximity to these north-south fault features.
NEXT STEPS
All preliminary data from the VTEM Plus survey has been received and final processed data is expected in Q2 2023. The Company will be undertaking subsequent modelling of the primary and secondary target areas that were identified, utilizing the final processed data, to generate a series of high priority drill targets. Basin Energy and the Company are currently evaluating the application of airborne gravity surveys as a way of mapping broader alteration associated with mineralizing processes and further refinement of priority drill targets.
Drill targets will be prioritized based on the stacking of geophysical and geological layers that have been collected on the project to date. These layers include airborne magnetics, radiometrics, and electromagnetics, in addition to geological prospecting and historical information compilation.
CanAlaska CEO, Cory Belyk, comments, "Results from this airborne survey are very encouraging with multiple priority targets identified for drill testing. The CanAlaska and Basin Energy teams have developed a solid and measured approach for target development to provide maximum value to our shareholders on future drill programs. Every layer of new information added to Geikie supports and emphasizes its growing discovery potential."
Geikie Project Overview
The Geikie Project is located just outside the eastern margin of the Athabasca Basin within the Wollaston Domain. The Project area has been subject to minimal exploration for uranium, with most significant work targeting base metals between 1967 and 1980. During this regional work, a series of mineralized showings were discovered in the Mud Lake and Marina areas. The Mud Lake uranium-molybdenum showing recorded a series of anomalous rock chips with grades of up to 0.225% U, 5.2% Mo, and 1.4% Cu. The Marina lead-zinc prospect recorded anomalous mineralization in outcrop of up to 2.03% Pb, 7.2% Zn and 0.93 oz/t Ag. Recent ground prospecting on the project has since confirmed the Mud Lake uranium-molybdenum showing results with up to 3,250 ppm molybdenum total and 0.21% uranium total in grab samples.
The primary target on the Geikie project is basement-hosted uranium mineralization where uranium bearing structures intersect favourable intercalated pelitic and calc-silicate host rocks. The Geikie project is located within 10 km of recent discoveries of basement-hosted uranium mineralization at the nearby Gemini Mineralized Zone and ACKIO.
The Geikie project is currently being sole-funded by Basin Energy Limited under an option earn-in agreement with the Company.
Other News
The Company is drilling on its West McArthur project in the eastern Athabasca Basin. The 2023 West McArthur drill program is focused on advancing the Company's new high-grade Pike Zone uranium discovery.
In addition, the Company is drilling on its Key Extension project, located in the southeastern Athabasca Basin region near the Key Lake mine and mill complex. The 2023 Key Extension drill program is focused on exploration of newly defined targets generated through a series of geophysical programs completed in 2022.
The Company's Joint Venture partner, Denison Mines Corp., is drilling on the Company's 25%-owned Moon Lake South project in the Athabasca Basin.
The Company will be attending and presenting at the Resource Connect Asia "Future Facing Commodities" Conference from April 4th to 6th at the Raffles City Convention Centre, Singapore.
Further information visit www.canalaska.com
The qualified technical person for this news release is Nathan Bridge, MSc., P.Geo., CanAlaska's Vice President, Exploration.

On behalf of the Board of Directors
"Cory Belyk"
Cory Belyk, P.Geo., FGC
CEO, President and Director
CanAlaska Uranium Ltd.

Contacts:
Neither TSX Venture Exchange nor its Regulation Services Provider (as that term is defined in the policies of the TSX Venture Exchange) accepts responsibility for the adequacy or accuracy of this release.

Forward-looking information

All statements included in this press release that address activities, events or developments that the Company expects, believes or anticipates will or may occur in the future are forward-looking statements. These forward-looking statements involve numerous assumptions made by the Company based on its experience, perception of historical trends, current conditions, expected future developments and other factors it believes are appropriate in the circumstances. In addition, these statements involve substantial known and unknown risks and uncertainties that contribute to the possibility that the predictions, forecasts, projections and other forward-looking statements will prove inaccurate, certain of which are beyond the Company's control. Readers should not place undue reliance on forward-looking statements. Except as required by law, the Company does not intend to revise or update these forward-looking statements after the date hereof or revise them to reflect the occurrence of future unanticipated events