Assay Results Return 2.46% U3O8 Over 8.0 Metres; Including 3.71% U3O8 Over 4.5 Metres
Supplemental 2023 Exploration Budget Approved – Drilling In September
Vancouver, Canada, July 26, 2023 – CanAlaska Uranium Ltd. (TSX-V: CVV; OTCQX: CVVUF; Frankfurt: DH7N) ("CanAlaska" or the "Company") is pleased to report that assay results have been received from the 2023 winter drill program completed by the Moon Lake South Joint Venture ("MLSJV"). Geochemical assay results returned a high-grade intersection grading 2.46% U3O8 over 8.0 metres, including 3.71% U3O8 over 4.5 metres in drill hole MS-23-10A. Additionally, the Company is pleased to report that the MLSJV has doubled the 2023 exploration budget with the approval of a newly planned supplemental drill program that will test for extensions of the high-grade uranium mineralization intersected this winter. The MLSJV is 75%-owned and operated by Denison Mines Corp. ("Denison"), and CanAlaska holds a 25% ownership (Figure 1). CanAlaska is funding the Company's share of the 2023 exploration programs.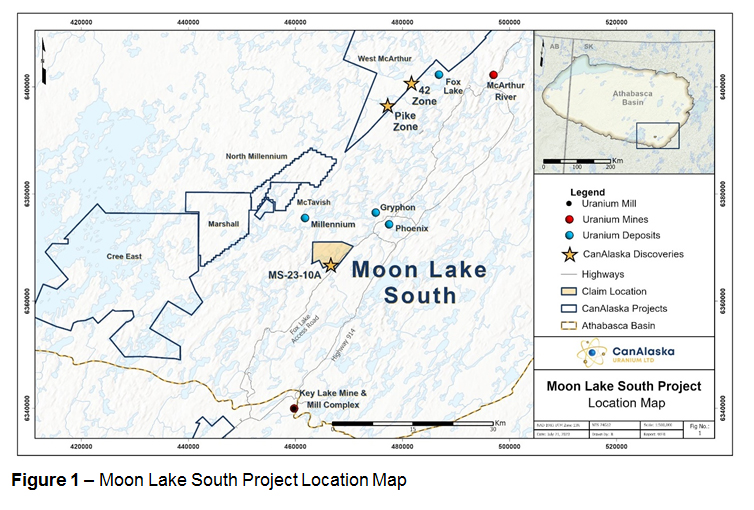 2023 Moon Lake South Winter Exploration Program Highlights
Drill hole MS-23-10A intersected 2.46% U3O8 over 8.0 metres, including 3.71% U3O8 over 4.5 metres, approximately 30 metres above the unconformity (Table 1). The mineralization in MS-23-10A represents the highest-grade mineralized intersection drilled to date along the CR-3 conductor on the Moon Lake South project. Given the limited number of drill holes completed during the winter program, the mineralization discovered in MS-23-10A remains open in multiple directions. The winter exploration program results, combined with previous drill programs, have confirmed uranium mineralization in multiple zones over a strike length of four kilometres along the CR-3 target corridor. At the conclusion of the winter drill program, the mineralization intersected on the southern portion of the CR-3 corridor remains open along strike for at least 1.2 kilometres to the northeast (Figure 2).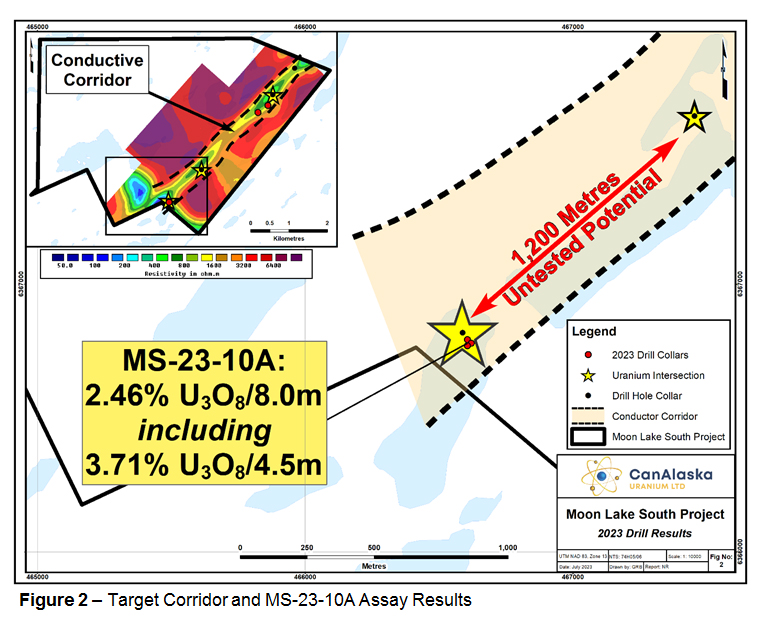 2023 Moon Lake South Supplemental Drilling Program
As a result of the winter drill program results, the MLSJV has approved an increase to double the planned exploration spending for 2023 by including a summer drill program. The approved supplemental program is expected to consist of between 4 and 8 drillholes for a total of up to 4,400 metres. The drilling is expected to focus on testing the northeast strike extension of the high-grade mineralization in MS-23-10A. The supplemental drill program is anticipated to start in mid-September.

CanAlaska CEO, Cory Belyk, comments, "An increase in the high-grade mineralization by 78% over the expected grade based on down-hole radiometric equivalents is an exciting outcome for the Moon Lake South JV and CanAlaska shareholders. These results clearly indicate this could be a very significant high-grade uranium discovery in the heart of the eastern Athabasca Basin near all the critical infrastructure of currently producing uranium mines and mills. Accordingly, the Moon Lake South JV is moving the project ahead aggressively through approval of this supplemental budget for summer of 2023. I am very encouraged by these early drill results, and I look forward to how this discovery continues to develop for CanAlaska shareholders.
Sampling, Analysis and Data Verification
Assay sample intervals are generally 50 centimetres long, except where higher or lower-grade mineralization boundaries fall within the interval. In that case, two 25 centimetre samples are collected. Flank samples of 1.0 metre are always collected where mineralization is located. Systematic geochemistry samples are collected every 10 metres down the hole.
All assayed core is split in half, with one half retained and the other sent to the Saskatchewan Research Council Geoanalytical Laboratory in Saskatoon for analysis. Control samples are routinely assayed with each batch of core samples analyzed.
For results from Moon Lake South, Denison, as operator, has performed detailed QAQC and data verification, where possible, of all datasets. CanAlaska has performed additional QAQC and data verification of the drilling database.
About CanAlaska Uranium
CanAlaska Uranium Ltd. (TSX-V: CVV; OTCQX: CVVUF; Frankfurt: DH7N) holds interests in approximately 350,000 hectares (865,000 acres), in Canada's Athabasca Basin – the "Saudi Arabia of Uranium." CanAlaska's strategic holdings have attracted major international mining companies. CanAlaska is currently working with Cameco and Denison at two of the Company's properties in the Eastern Athabasca Basin. CanAlaska is a project generator positioned for discovery success in the world's richest uranium district. The Company also holds properties prospective for nickel, copper, gold and diamonds.
Further information visit www.canalaska.com
The qualified technical person for this news release is Nathan Bridge, MSc., P.Geo., CanAlaska's Vice President, Exploration.

On behalf of the Board of Directors
"Cory Belyk"
Cory Belyk, P.Geo., FGC
CEO, President and Director
CanAlaska Uranium Ltd.

Contacts:
Neither TSX Venture Exchange nor its Regulation Services Provider (as that term is defined in the policies of the TSX Venture Exchange) accepts responsibility for the adequacy or accuracy of this release.

Forward-looking information

All statements included in this press release that address activities, events or developments that the Company expects, believes or anticipates will or may occur in the future are forward-looking statements. These forward-looking statements involve numerous assumptions made by the Company based on its experience, perception of historical trends, current conditions, expected future developments and other factors it believes are appropriate in the circumstances. In addition, these statements involve substantial known and unknown risks and uncertainties that contribute to the possibility that the predictions, forecasts, projections and other forward-looking statements will prove inaccurate, certain of which are beyond the Company's control. Readers should not place undue reliance on forward-looking statements. Except as required by law, the Company does not intend to revise or update these forward-looking statements after the date hereof or revise them to reflect the occurrence of future unanticipated events