Assay Results Include 2.80% U3O8 Over 2.6 Metres; Including Maximum Grade of 20.20% U3O8
Two Drill Summer 2023 Exploration Program Underway at Pike Zone
Vancouver, Canada, August 15, 2023 – CanAlaska Uranium Ltd. (TSX-V: CVV; OTCQX: CVVUF; Frankfurt: DH7N) ("CanAlaska" or the "Company") is pleased to announce mobilization of the crews for the summer exploration drilling program. The Company is also pleased to report that it has received assay results from the 2023 winter drill program at the West McArthur project (the "Project") in the Athabasca Basin (Figure 1). Geochemical assay results are highlighted by drill hole WMA079 which returned a high-grade intersection grading 2.80% U3O8 over 2.6 metres, including a sub-interval of 20.20% U3O8 over 0.3 metres. The assay results confirm uranium mineralization intersected in six of the nine drill holes completed during the winter program, including several intersections of unconformity-associated uranium mineralization at Pike Zone. The West McArthur project, a Joint Venture with Cameco Corporation, is operated by CanAlaska currently holding a 79.4% ownership in the project (Figure 1). CanAlaska is sole-funding the 2023 West McArthur program, further increasing its majority ownership in the Project.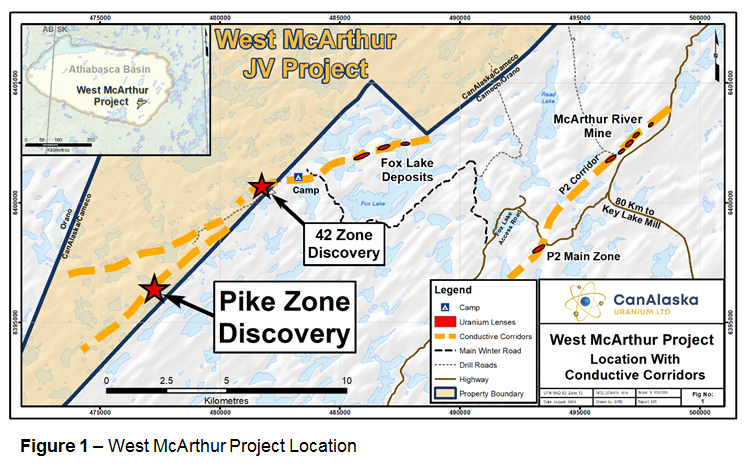 2023 West McArthur Winter Exploration Program Highlights
During the winter drill program, the Company focused on drill testing unconformity targets in the vicinity of the Pike Zone as well as continued definition of the high-grade basement mineralization. Each of the holes completed during the winter program intersected indicative alteration and structural disruption in the lower sandstone and basement related to faulting along the C10S conductor corridor, a structural bifurcation from the C10 corridor on the project. The C10 corridor is host to CanAlaska's nearby 42 Zone discovery, and Cameco and Orano's high-grade Fox Lake uranium deposit.
During the winter drill program, the Pike Zone basement mineralization was expanded and remains open in all directions. Highlights from the basement mineralization include WMA079 which intersected two intervals, 0.77% U3O8 over 2.5 metres and 2.80% U3O8 over 2.6 metres, including a sub-interval of 20.20% U3O8 over 0.3 metres (Table 1).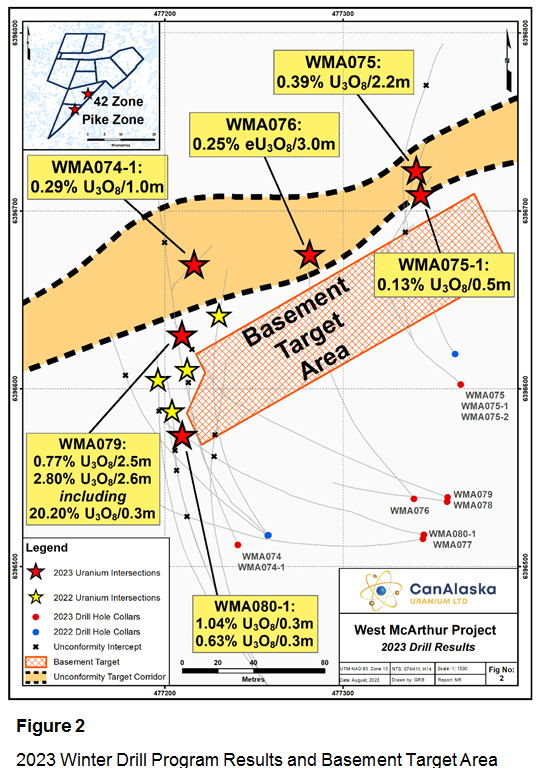 In addition, unconformity-associated uranium mineralization was discovered on two drill fences located 100 and 160 metres to the northeast of the original Pike Zone discovery.
Results from the winter program indicate high priority targets exist in the basement and at the unconformity at Pike Zone (Figure 2). In the basement, high priority targets are located immediately northeast of the Pike Zone, below the recent unconformity uranium intersections. Numerous high priority unconformity-related targets exist immediately southwest and northeast of the Pike Zone.
3D Resistivity Survey Results
In addition to the winter drilling program, the Company completed a 3D DCIP Resistivity survey over the C10S conductive corridor. DCIP Resistivity surveys are routinely used in the Athabasca Basin to identify areas of low resistivity in the sandstone. Resistivity low breaches are commonly caused by structural disruption and associated strong clay alteration of the sandstone above faulted basement rocks. Multiple large unconformity breaches, projecting over 700 metres into the overlying sandstone column, were mapped along the C10S corridor during the recent survey. The most significant breach is located approximately 2 km northeast of the Pike Zone discovery (Figure 3). The occurrence of large resistivity low breaches associated with high-grade unconformity deposits such as Phoenix, Fox Lake, and Midwest, are well documented in the Athabasca Basin.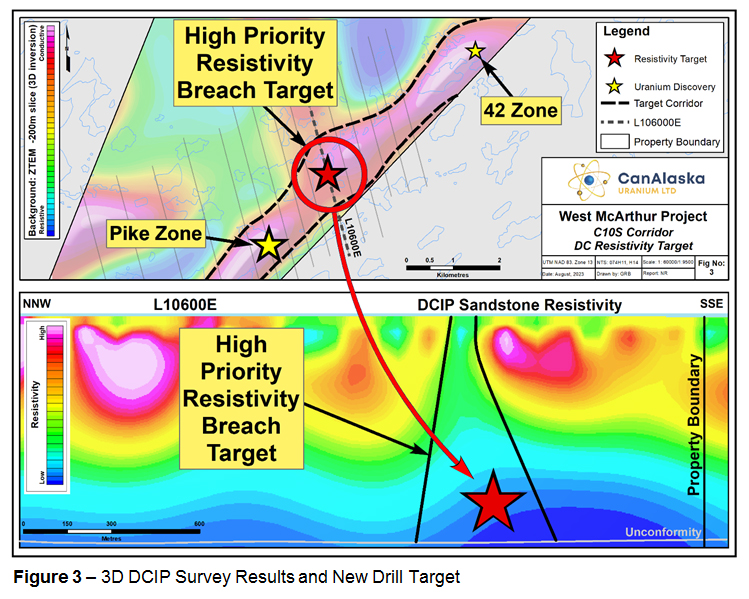 Next Steps
Drill crews and geological staff have been mobilized to the Project to begin the summer exploration program. The two-drill summer program is part of the $10 million 2023 approved program on the West McArthur Joint Venture and will be focused on the immediate Pike Zone area. This includes continued expansion of basement-hosted high-grade uranium mineralization as well as continued unconformity target testing.
Based on the very positive results of the recent 3D DCIP Resistivity survey, the Company will drill test the most prolific resistivity breach targets that were imaged along the C10S corridor. The L10600E resistivity breach, located 1.8 kilometres northeast of the Pike Zone and 4.3 kilometres southwest of the 42 Zone, will be an initial focus for the second drill (Figure 3). The C10S corridor is interpreted to be over 15 kilometres in length and the Company believes there are multiple opportunities for discovery near the Pike Zone and elsewhere along this mineralized corridor.
Table 1 – 2023 West McArthur Winter Geochemical Assay Intersections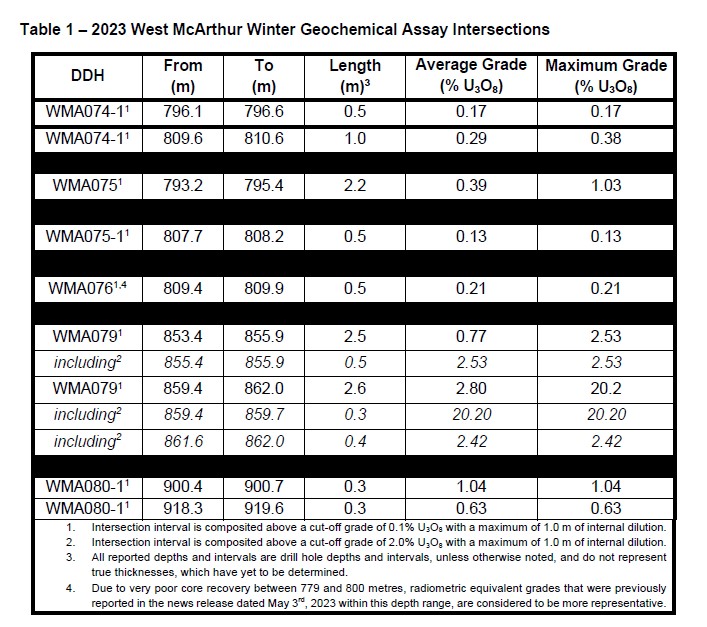 CanAlaska CEO, Cory Belyk, comments, "Assay confirmation of uranium grades from the winter drilling program are very encouraging. With the Pike Zone now returning indications of significant uranium mineralization over more than 160 metres length in the basement and at the unconformity, and remaining open in multiple directions, the CanAlaska team is excited to get back to West McArthur to further expand the mineralization footprint of this potential major discovery. As we anticipated, the recent resistivity survey is highlighting the immense discovery potential of the C10S mineralized corridor with discrete targets on equivalent scale to other major unconformity uranium deposits such as Fox Lake and Phoenix. A new target area located just 1.8 kilometres from Pike Zone is extremely compelling and well within the length extent of a McArthur River or Cigar Lake deposit analogue."
Table 2 – 2023 West McArthur Winter Exploration Drill Collar Locations
Drill Hole
Easting
Northing
Elevation (m A.S.L.)
Azimuth (˚)
Dip (˚)
EOH (m)
Unconformity Depth
(m)
WMA074
477237.0
6396515.0
599.3
335
-77.0
959
801.1
WMA074-1
477237.0
6396515.0
599.3
335
-77.0
950
796.1
WMA075
477364.0
6396604.0
603.4
320
-82.0
893
794.9
WMA075-1
477364.0
6396604.0
603.4
320
-82.0
887
787.9
WMA075-2
477364.0
6396604.0
603.4
320
-82.0
908
785.5
WMA076
477339.0
6396538.0
608.0
325
-76.1
893
799.7
WMA077
477345.0
6396515.0
608.0
277
-80.5
1052
787.4
WMA078
477358.7
6396536.5
606.0
301
-78.3
302
N/A
WMA079
477359.0
6396539.0
606.0
301
-80.5
902
803.3
WMA080-1
477345.7
6396518.0
606.0
280
-80.5
977
787.7
Notes: Easting and Northing coordinates are reported in UTM Zone 13N (NAD83 datum). EOH = end of hole. m A.S.L. = metres above sea level. WMA078 was not completed due to excessive deviation. Holes with -1 and -2 represent wedge off cuts or directional steering at depth from pilot holes.
Sampling, Analysis and Data Verification
All drill core samples from the 2023 winter program were shipped to the Saskatchewan Research Council Geoanalytical Laboratories (SRC) in Saskatoon, Saskatchewan in secure containment for preparation, processing, and multi-element analysis by ICP-MS and ICP-OES using total (HF:NHO3:HClO4) and partial digestion (HNO3:HCl), boron by fusion, and U3O8 wt% assay by ICP-OES using higher grade standards. Assay samples are chosen based on downhole probing radiometric equivalent uranium grades and scintillometer (SPP2 or CT007-M) peaks. Assay sample intervals comprise 0.3 – 0.7 metre continuous half-core split samples over the mineralized interval. One half of the split sample is retained and the other sent to the SRC for analysis. The SRC is an ISO/IEC 17025/2005 and Standards Council of Canada certified analytical laboratory. Blanks, standard reference materials, and repeats are inserted into the sample stream at regular intervals by CanAlaska and the SRC in accordance with CanAlaska's quality assurance/quality control (QA/QC) procedures. For results from the West McArthur project, a qualified person employed by CanAlaska has performed detailed QAQC and data verification, were possible, of all datasets prior to disclosure.
All reported depths and intervals are drill hole depths and intervals, unless otherwise noted, and do not represent true thicknesses, which have yet to be determined.

About CanAlaska Uranium CanAlaska Uranium Ltd. (TSX-V: CVV; OTCQX: CVVUF; Frankfurt: DH7N) holds interests in approximately 350,000 hectares (865,000 acres), in Canada's Athabasca Basin – the "Saudi Arabia of Uranium."  CanAlaska's strategic holdings have attracted major international mining companies. CanAlaska is currently working with Cameco and Denison at two of the Company's properties in the Eastern Athabasca Basin. CanAlaska is a project generator positioned for discovery success in the world's richest uranium district. The Company also holds properties prospective for nickel, copper, gold and diamonds.
For further information visit www.canalaska.com
The qualified technical person for this news release is Nathan Bridge, MSc., P.Geo., CanAlaska's Vice President, Exploration.

On behalf of the Board of Directors
"Cory Belyk"
Cory Belyk, P.Geo., FGC
CEO, President and Director
CanAlaska Uranium Ltd.

Contacts:
Neither TSX Venture Exchange nor its Regulation Services Provider (as that term is defined in the policies of the TSX Venture Exchange) accepts responsibility for the adequacy or accuracy of this release.

Forward-looking information

All statements included in this press release that address activities, events or developments that the Company expects, believes or anticipates will or may occur in the future are forward-looking statements. These forward-looking statements involve numerous assumptions made by the Company based on its experience, perception of historical trends, current conditions, expected future developments and other factors it believes are appropriate in the circumstances. In addition, these statements involve substantial known and unknown risks and uncertainties that contribute to the possibility that the predictions, forecasts, projections and other forward-looking statements will prove inaccurate, certain of which are beyond the Company's control. Readers should not place undue reliance on forward-looking statements. Except as required by law, the Company does not intend to revise or update these forward-looking statements after the date hereof or revise them to reflect the occurrence of future unanticipated events.