Assay Results Confirm Uranium Enrichment in Multiple Drillholes
Falcon Airborne Gravity Survey Completed; Final Results Pending
Vancouver, Canada, September 27, 2023 – CanAlaska Uranium Ltd. (TSX-V: CVV; OTCQX: CVVUF; Frankfurt: DH7N) ("CanAlaska or the "Company") is pleased to announce that it has received assay results from the 2023 exploration program on the Geikie project (the "Project") located near the Athabasca Basin margin (Figure 1). Assay results confirm uranium mineralization and enrichment associated with hydrothermal alteration and structure. The program is highlighted by 0.5 metres @ 0.27% U3O8 from 185.0 metres in drillhole GKI002. The program focused on a 15-kilometre-long northeast trending conductor system with high-priority structural targets. The Geikie project is approximately 10 kilometres east of the Athabasca Basin margin and 10 kilometres west of Highway 905. The 2023 drill program consisted of 2,217 metres in eight drill holes, representing CanAlaska's first drill holes on its 40%-owned Geikie project.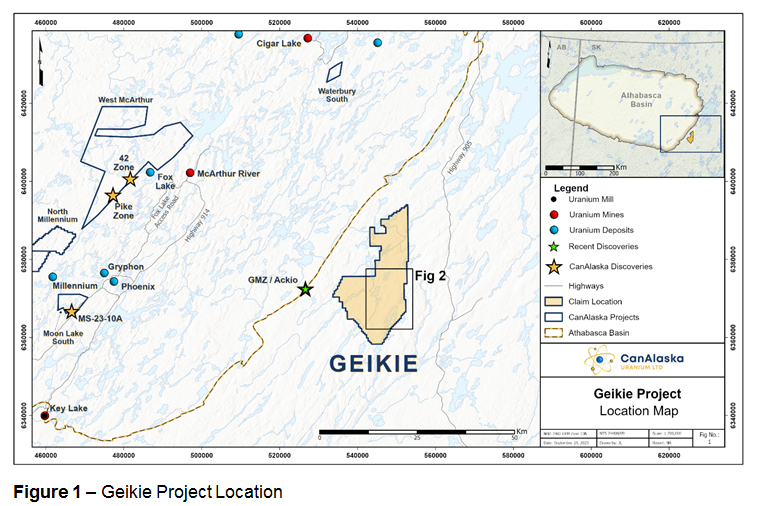 2023 Drill Program Geochemical Assay Results
Assay results from the 2023 drill program on the Geikie project confirm uranium mineralization in the Aero Lake target area, which is located at the southern end of the 15-kilometre-long conductor trend. GKI 002 intersected 0.27% U3O8 over 0.5 metres from 185.0 metres to 185.5 metres. In addition, GKI002 intersected hydrothermal alteration associated with large-scale reactivated fault zones.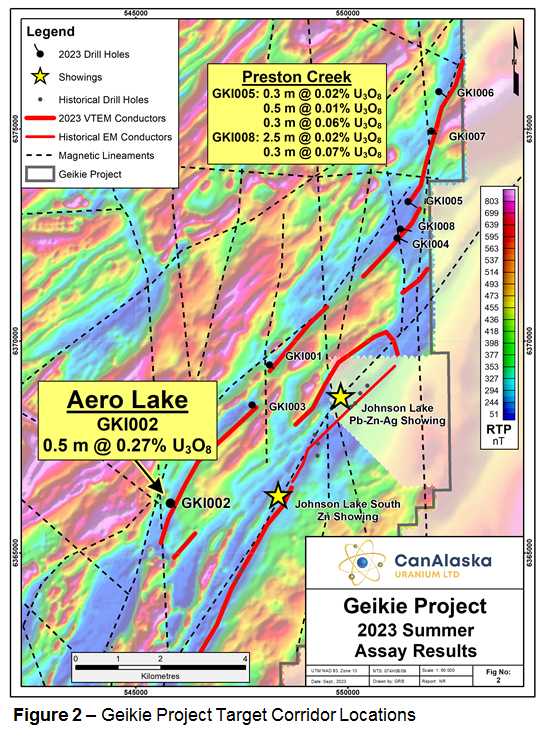 Assay results also confirm uranium enrichment in drillholes completed in the Preston Creek target area, located at the northeastern end of the 15-kilometre-long conductor trend. GKI005 intersected three intervals of uranium enrichment, most notably 0.06% U3O8 from 255.3 metres to 255.6 metres, associated with a sheared graphitic pelite (Table 1). GKI008 intersected two intervals of uranium enrichment, including 2.5 metres at 0.02 %U3O8 from 27.8 metres to 30.3 metres (Table 1). Drillholes in the Preston Creek target area were drilled in a zone of structural disruption, where a north to north-northwest trending fault transects the conductor trend. Each drill hole in this target area intersected reactivated basement faults of up to 30 metres in width, consisting of clay gouge and breccias within variably graphitic pelitic host rocks. Hydrothermal alteration enveloping the major fault zones consisted of hematite, chlorite, clay, and structurally-enhanced graphitic clays. Within the fault zones, the alteration intensifies and locally overprints the original host.
The 2023 drilling program successfully intersected graphitic host rocks with large reactivated and brecciated fault zones, associated with hydrothermal alteration, uranium mineralization, and uranium enrichment. The drill program confirmed the presence of hydrothermal alteration systems within a complex structural framework at Geikie, features which are commonly associated with basement-hosted high-grade uranium deposits elsewhere in the Athabasca Basin. Results of this first drill program will allow for refinement of the exploration model on the Geikie project to advance the most prospective portions of the multiple target corridors. Early results from the Preston Creek target area indicate the 15-kilometre-long structural corridor represents a high-priority area for further drill testing.
Falcon Airborne Gravity Gradiometer Survey Completed
The Company is pleased to report that the detailed fixed-wing Falcon Airborne Gravity Gradiometer (AGG) survey on the Geikie project has been completed. The survey consisted of approximately 1,800 line-kilometres of airborne surveying at 200 m spacing across the majority of the Geikie project. The purpose of the AGG survey, a demonstrated successful technique in identifying uranium alteration systems in the Athabasca Basin, is to identify potential target areas of enhanced basement alteration associated with previously interpreted and drill defined structural corridors. The exploration potential of the current targets and the broader Geikie project is highlighted through the styles and significance of alteration observed in drilling at the Preston Creek and Aero Lake Prospects.
Once processing has been finalized, the AGG survey results will be combined with existing high-resolution airborne geophysical data sets previously collected, including electromagnetics, radiometrics, magnetics, and the recent drill hole information, to validate existing targets and generate additional targets for future drill programs. The Company is actively planning a drill program for 2024 on the Geikie project. The Geikie project is currently being sole-funded by Basin Energy Limited (ASX: BSN) under an option earn-in agreement with the Company.
CanAlaska CEO, Cory Belyk, comments, "Confirmation of the presence of uranium mineralization and enrichment in at least two target areas on the Geikie project is a fantastic outcome from this first drilling program by CanAlaska and Basin Energy. The team looks forward to final processing of the gravity data that will undoubtedly provide added target inventory for this very large and prospective project area for the next phase of drilling scheduled for 2024. These are exceptional results at this early stage of project evaluation and is a testament to the project generating prowess of the CanAlaska technical team."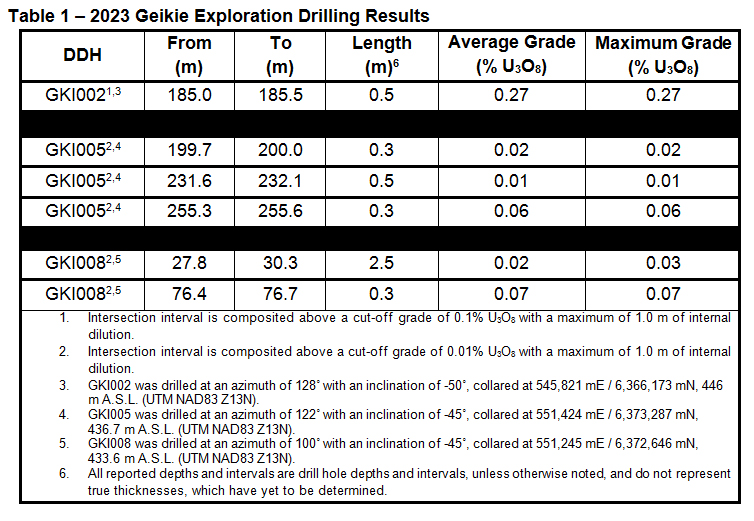 Geochemical Sampling Procedures
All drill core samples from the 2023 program were shipped to the Saskatchewan Research Council Geoanalytical Laboratories (SRC) in Saskatoon, Saskatchewan in secure containment for preparation, processing, and multi-element analysis by ICP-MS and ICP-OES using total (HF:NHO3:HClO4) and partial digestion (HNO3:HCl), boron by fusion, and U3O8 wt% assay by ICP-OES using higher grade standards. Assay samples are chosen based on downhole probing radiometric equivalent uranium grades and scintillometer (SPP2 or CT007-M) peaks. Assay sample intervals comprise 0.3 – 0.5 metre continuous half-core split samples over the mineralized interval. One half of the split sample is retained and the other sent to the SRC for analysis. The SRC is an ISO/IEC 17025/2005 and Standards Council of Canada certified analytical laboratory. Blanks, standard reference materials, and repeats are inserted into the sample stream at regular intervals by CanAlaska and the SRC in accordance with CanAlaska's quality assurance/quality control (QA/QC) procedures. For results from the Geikie project, a qualified person employed by CanAlaska has performed detailed QAQC and data verification, were possible, of all datasets prior to disclosure.
All reported depths and intervals are drill hole depths and intervals, unless otherwise noted, and do not represent true thicknesses, which have yet to be determined.
Other News
The Company is currently drilling at its West McArthur and Moon Lake South uranium projects in the eastern Athabasca Basin, advancing two new high-grade uranium discoveries.
About CanAlaska Uranium CanAlaska Uranium Ltd. (TSX-V: CVV; OTCQX: CVVUF; Frankfurt: DH7N) holds interests in approximately 350,000 hectares (865,000 acres), in Canada's Athabasca Basin – the "Saudi Arabia of Uranium." CanAlaska's strategic holdings have attracted major international mining companies. CanAlaska is currently working with Cameco and Denison at two of the Company's properties in the Eastern Athabasca Basin. CanAlaska is a project generator positioned for discovery success in the world's richest uranium district. The Company also holds properties prospective for nickel, copper, gold and diamonds.
Further information visit www.canalaska.com
The Qualified Person under National Instrument 43-101 Standards of Disclosure for Mineral Projects for this news release is Nathan Bridge, MSc., P. Geo., Vice-President Exploration for CanAlaska Uranium Ltd., who has reviewed and approved its contents.

On behalf of the Board of Directors
"Cory Belyk"
Cory Belyk, P.Geo., FGC
CEO, President and Director
CanAlaska Uranium Ltd.

Contacts:
Neither TSX Venture Exchange nor its Regulation Services Provider (as that term is defined in the policies of the TSX Venture Exchange) accepts responsibility for the adequacy or accuracy of this release.

Forward-looking information

All statements included in this press release that address activities, events or developments that the Company expects, believes or anticipates will or may occur in the future are forward-looking statements. These forward-looking statements involve numerous assumptions made by the Company based on its experience, perception of historical trends, current conditions, expected future developments and other factors it believes are appropriate in the circumstances. In addition, these statements involve substantial known and unknown risks and uncertainties that contribute to the possibility that the predictions, forecasts, projections and other forward-looking statements will prove inaccurate, certain of which are beyond the Company's control. Readers should not place undue reliance on forward-looking statements. Except as required by law, the Company does not intend to revise or update these forward-looking statements after the date hereof or revise them to reflect the occurrence of future unanticipated events