Meet Management at the 121 Mining Investment Conference in New York
Vancouver, British Columbia–(Newsfile Corp. – May 15, 2023) – CanAlaska Uranium Ltd. (TSXV: CVV) (OTCQX: CVVUF) (FSE: DH7N) ("CanAlaska or the "Company") is pleased to announce that it has now completed the acquisition of the Mel nickel deposit and surrounding mineral claims (Figure 1).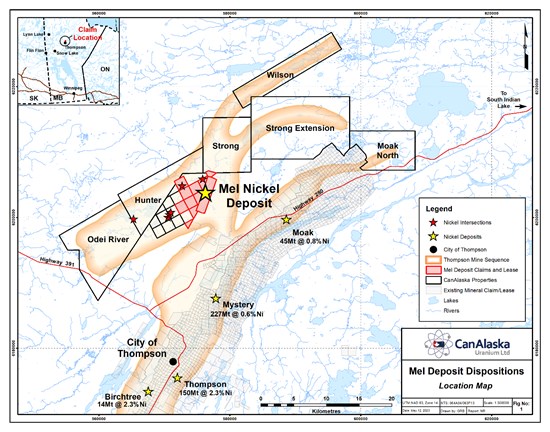 Figure 1 – Mel Project Location
CanAlaska CEO, Cory Belyk, comments, "Completion of this transaction gives CanAlaska and its shareholders a concrete and tangible NI43-101 compliant high-grade sulphide nickel resource in a very prolific nickel belt, located in a stable and secure mining jurisdiction in central Canada. The Mel deposit acquisition perfectly compliments CanAlaska's existing district-scale nickel portfolio in Manitoba providing the Company with optionality on the path forward to building value for our shareholders. Class 1 nickel deposits of this scale and upside potential are difficult to find as companies seek to position nickel portfolios within an ever-tightening nickel supply market. CanAlaska shareholders are now extremely well positioned in several critical metals to take advantage of an electrified clean-energy future."
Transaction
Details of this transaction were previously announced on March 6, 2023 and May 4, 2023. As part of the purchase price, the Company issued 2,000,000 shares to the vendor. The shares are subject to a hold period expiring September 13, 2023 (the "Hold Period Expiry Date") under applicable securities laws. The parties have also agreed to voluntary resale restrictions thereafter with 25% (500,000) of the shares released from resale restrictions on the Hold Period Expiry Date and the balance being released in three tranches of 500,000 on each of the dates that is 2, 4 and 6 months after the Hold Period Expiry Date. Notwithstanding the foregoing, the vendor will have the right to sell, transfer or otherwise dispose of all (but not less than all) of the shares in a block trade at any time in its sole discretion after the Hold Period Expiry Date.
Other News
The Company will be attending the 121 Mining Investment conference June 5 -6 at the etc. venues 360 Madison event centre, New York, USA.
About CanAlaska Uranium
CanAlaska Uranium Ltd. (TSXV: CVV) (OTCQX: CVVUF) (FSE: DH7N) holds interests in approximately 300,000 hectares (750,000 acres), in Canada's Athabasca Basin – the "Saudi Arabia of Uranium." CanAlaska's strategic holdings have attracted major international mining companies. CanAlaska is currently working with Cameco and Denison at two of the Company's properties in the Eastern Athabasca Basin. CanAlaska is a project generator positioned for discovery success in the world's richest uranium district. The Company also holds properties prospective for nickel, copper, gold and diamonds. For further information visit www.canalaska.com.
The qualified technical person for this news release is Nathan Bridge, MSc., P.Geo., CanAlaska's Vice President, Exploration.
On behalf of the Board of Directors
"Cory Belyk"
Cory Belyk, P.Geo., FGC
CEO, Executive Vice President and Director
CanAlaska Uranium Ltd.
Contacts:
Cory Belyk, Executive VP and CEO
Tel: +1.604.688.3211 x 306
Email: cbelyk@canalaska.com
General Enquiry
Tel: +1.604.688.3211
Email: info@canalaska.com
Neither TSX Venture Exchange nor its Regulation Services Provider (as that term is defined in the policies of the TSX Venture Exchange) accepts responsibility for the adequacy or accuracy of this release.
Forward-looking information
All statements included in this press release that address activities, events or developments that the Company expects, believes or anticipates will or may occur in the future are forward-looking statements. These forward-looking statements involve numerous assumptions made by the Company based on its experience, perception of historical trends, current conditions, expected future developments and other factors it believes are appropriate in the circumstances. In addition, these statements involve substantial known and unknown risks and uncertainties that contribute to the possibility that the predictions, forecasts, projections and other forward-looking statements will prove inaccurate, certain of which are beyond the Company's control. Readers should not place undue reliance on forward-looking statements. Except as required by law, the Company does not intend to revise or update these forward-looking statements after the date hereof or revise them to reflect the occurrence of future unanticipated events.