Drilling Focused on Discovery of Shallow High-Grade Basement-Hosted Uranium
Three High Priority Target Areas to be Drill Tested
Vancouver, Canada, June 13, 2023 – CanAlaska Uranium Ltd. (TSX-V: CVV; OTCQX: CVVUF; Frankfurt: DH7N) ("CanAlaska or the "Company") is pleased to announce mobilization of field team, drill crew and equipment to it's 60%-owned Geikie project in the Athabasca Basin (Figure 1). The Geikie project is located approximately 10 kilometres east of the Athabasca Basin margin and 10 kilometres west of Highway 905. The drill program will be focused on testing shallow, high-priority targets that have been compiled from recent high-resolution airborne radiometric, magnetic, and electromagnetic surveys in combination with prospecting, structural mapping, and historical data review. The initial drill program is planned for 2,000 metres, consisting of eight drill holes with proposed depths around 250 metres each.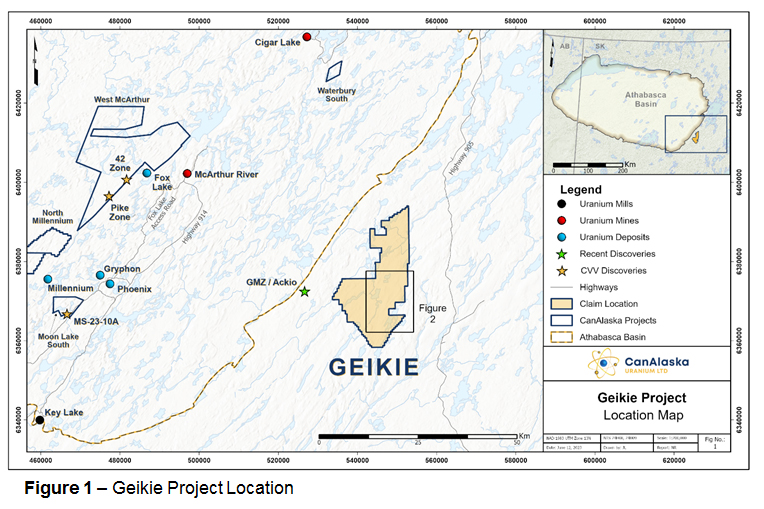 2023 Geikie Summer Drill Program
The drill program will be focused on a 15-kilometre-long northeast trending conductor system, striking through the southern half of the property, recently identified during the completed VTEM Plus survey (Figure 2). Three high-priority target areas have been identified where interpreted north-south trending fault splays cause offsets along the conductor trend. These north-south trending structural features are interpreted to be related to the regionally significant deep-seated faults of the Tabbernor Fault System.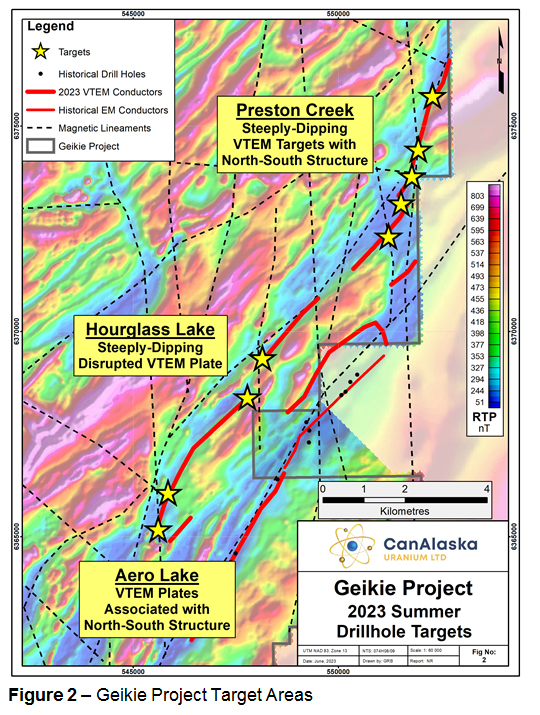 The Preston Creek target area is located at the northeastern end of the 15-kilometre-long conductor trend. 3D modelling of the VTEM anomalies shows a succession of steeply dipping sub-parallel EM plates that are disrupted by a north-south trending structural lineament.
The Hourglass Lake target area is located midway along the 15-kilometre-long conductor trend. Drill testing of this target area will focus on interpreted disruption in the modelled steeply-dipping VTEM conductor along a north-south trending lineament.
The Aero Lake target area is located at the southern end of the 15-kilometre-long conductor trend. In this target area, the VTEM plates are modelled to be more shallowly dipping and indicate a potential fold-hinge which occurs near an interpreted north-south trending fault splay.
The Company believes the structural complexity causing disrupted EM plates and signatures in association with north-south trending fault structure, provides potential conduits for the movement of uranium-bearing fluids.
CanAlaska CEO, Cory Belyk, comments, "Mobilization of the team and crews to the Geikie project area is a great accomplishment for the Company. From inception of the project through to this first drilling program, the Company has been diligent with its methodical approach to exploration and developing very high-quality targets for testing. I look forward to the first drill results from this inaugural program in what is one of the most interesting Athabasca Basin exploration regions for shallow basement-hosted uranium mineralization."
Geikie Project Overview
The Geikie Project is located just outside the eastern margin of the Athabasca Basin within the Wollaston Domain. The Project area has been subject to minimal exploration for uranium, with most significant work targeting base metals between 1967 and 1980. During this regional work, a series of mineralized showings were discovered in the Mud Lake and Marina areas. The Mud Lake uranium-molybdenum showing recorded a series of anomalous rock chips with grades of up to 0.225%U, 5.2%Mo, and 1.4%Cu. The Marina lead-zinc prospect recorded anomalous mineralization in outcrop of up to 2.03% Pb, 7.2% Zn and 0.93 oz/t Ag. Recent ground prospecting on the project has since confirmed the Mud Lake uranium-molybdenum, showing results with up to 3,250 ppm molybdenum total and 0.21% uranium total in grab samples.
The primary target on the Geikie project is basement-hosted uranium mineralization, where uranium bearing structures intersect favourable metasedimentary host rocks. The Geikie project is located within 10 kilometres of recent discoveries of basement-hosted uranium mineralization at the nearby Gemini Mineralized Zone ("GMZ") and ACKIO. These recent discoveries along with known mineralization at the nearby Agip-S and West Way prospects, all underscore the prospectivity of this portion of the Wollaston Belt.
The Geikie project is currently being sole-funded by Basin Energy Limited (ASX: BSN) under an option earn-in agreement with the Company.

About CanAlaska Uranium
CanAlaska Uranium Ltd. (TSX-V: CVV; OTCQX: CVVUF; Frankfurt: DH7N) holds interests in approximately 350,000 hectares (865,000 acres), in Canada's Athabasca Basin – the "Saudi Arabia of Uranium." CanAlaska's strategic holdings have attracted major international mining companies. CanAlaska is currently working with Cameco and Denison at two of the Company's properties in the Eastern Athabasca Basin. CanAlaska is a project generator positioned for discovery success in the world's richest uranium district. The Company also holds properties prospective for nickel, copper, gold and diamonds.
For further information visit www.canalaska.com.
The qualified technical person for this news release is Nathan Bridge, MSc., P.Geo., CanAlaska's Vice President, Exploration.
On behalf of the Board of Directors
"Cory Belyk"
Cory Belyk, P.Geo., FGC
CEO, President and Director
CanAlaska Uranium Ltd.

Contacts:

Neither TSX Venture Exchange nor its Regulation Services Provider (as that term is defined in the policies of the TSX Venture Exchange) accepts responsibility for the adequacy or accuracy of this release.

Forward-looking information

All statements included in this press release that address activities, events or developments that the Company expects, believes or anticipates will or may occur in the future are forward-looking statements. These forward-looking statements involve numerous assumptions made by the Company based on its experience, perception of historical trends, current conditions, expected future developments and other factors it believes are appropriate in the circumstances. In addition, these statements involve substantial known and unknown risks and uncertainties that contribute to the possibility that the predictions, forecasts, projections and other forward-looking statements will prove inaccurate, certain of which are beyond the Company's control. Readers should not place undue reliance on forward-looking statements. Except as required by law, the Company does not intend to revise or update these forward-looking statements after the date hereof or revise them to reflect the occurrence of future unanticipated events.