Addition of Priority Target Corridor in the South Project Area Increases Opportunity for Discovery
Geikie Uranium Project Drilling Program Underway
Vancouver, Canada, June 21, 2023 – CanAlaska Uranium Ltd. (TSX-V: CVV; OTCQX: CVVUF; Frankfurt: DH7N) ("CanAlaska or the "Company") is pleased to announce it has expanded the Enterprise project, adding 2,284 hectares, for a new total of 14,344 hectares. The Enterprise project is located in the southeastern Athabasca Basin, approximately 20 kilometres from the Key Lake Mine and Mill Complex along Highway 914 (Figure 1).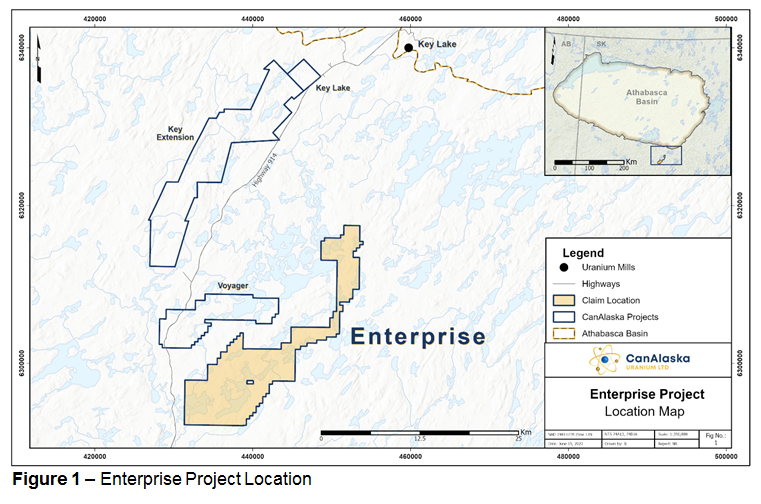 The Enterprise project is part of the Company's strategy to increase its landholdings in the infrastructure-rich southeastern Athabasca Basin. Land acquisitions in this part of the Athabasca Basin deliberately focus on staking the interpreted structural corridors that are host to, or geologically similar to, the nearby Key Lake uranium deposits. Enterprise is well situated in relation to several other projects in the Company's portfolio and critical infrastructure such as power, road, and mill. The Enterprise project is a part of CanAlaska's project generator business, and the Company will seek strategic partners to advance these and other CanAlaska-owned assets.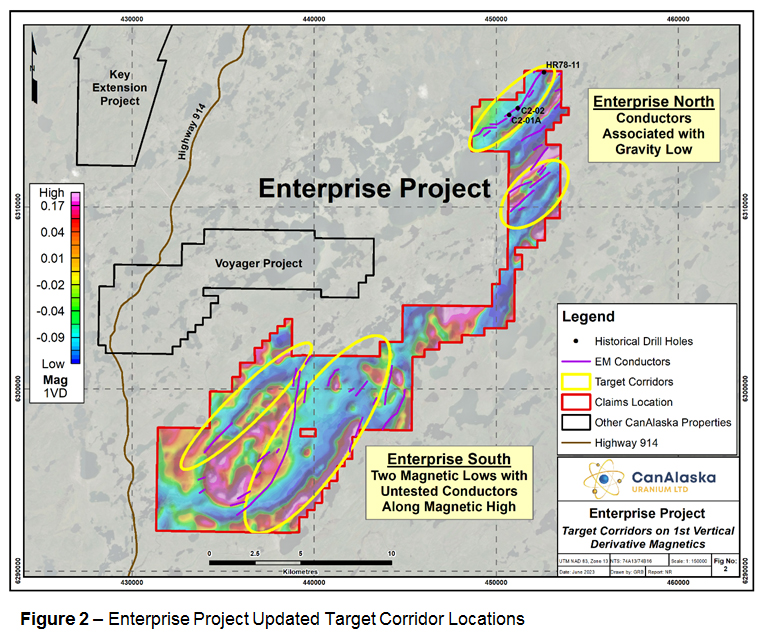 CanAlaska CEO, Cory Belyk, comments: "Expansion of the priority target corridors for the Enterprise project add a significant number of exploration targets for future exploration and drill testing. Opportunities to expand a high-quality project near the operating Key Lake uranium mill are very rare. The CanAlaska team continue to do an amazing job of assembling a dominant land position in this area of the Athabasca Basin focussing on discovery of high-grade basement-hosted uranium deposits. We will actively seek new joint venture partners to help move Enterprise forward."
Enterprise Project
The Enterprise project is located approximately 20 kilometres south of the present-day Athabasca Basin edge. Data compilation by the Company, detailed in a press release dated February 28, 2023, showed two main target corridors in the northern portion of the Enterprise project where northeast-southwest trending magnetic lows are associated with conductors and gravity low anomalies (Figure 2). These target corridors in the northern portion of the Enterprise project represent drill-ready target areas.
Recent staking has expanded the Enterprise project by 2,284 hectares, for a new total of 14,344 hectares. The newly staked Enterprise claims have been subject to similar historical exploration programs, consisting of prospecting and geological mapping completed in conjunction with airborne radiometric, electromagnetic, and magnetic surveys in the 1970's and 1980's. In the early 2000's, a helicopter-borne AeroTEM electromagnetic and magnetic was completed over the newly acquired claims.
The newly acquired claims in the southern portion of the Enterprise project capture previously identified priority target areas. The southern portion of the project now consists of two extensive and broad magnetic low corridors in a northeast-southwest orientation. These corridors are bordered by magnetic high bodies interpreted to provide an important competency contrast for the formation of structural corridors. The Company believes these expanded target areas represent underexplored structural corridors prospective for the discovery of high-grade basement-hosted uranium mineralization similar in style and grade to the Eagle Point uranium deposit.
Other News
The Company is currently drilling on its Geikie project in the eastern Athabasca Basin. The 2023 Geikie drill program is focused on testing high-priority geophysical targets identified in the recently completed VTEM Plus survey in search of high-grade basement-hosted uranium mineralization.
About CanAlaska Uranium CanAlaska Uranium Ltd. (TSX-V: CVV; OTCQX: CVVUF; Frankfurt: DH7N) holds interests in approximately 350,000 hectares (865,000 acres), in Canada's Athabasca Basin – the "Saudi Arabia of Uranium." CanAlaska's strategic holdings have attracted major international mining companies. CanAlaska is currently working with Cameco and Denison at two of the Company's properties in the Eastern Athabasca Basin. CanAlaska is a project generator positioned for discovery success in the world's richest uranium district. The Company also holds properties prospective for nickel, copper, gold and diamonds.
For further information visit www.canalaska.com.
The qualified technical person for this news release is Nathan Bridge, MSc., P.Geo., CanAlaska's Vice President, Exploration.
On behalf of the Board of Directors
"Cory Belyk"
Cory Belyk, P.Geo., FGC
CEO, President and Director
CanAlaska Uranium Ltd.

Contacts:
Neither TSX Venture Exchange nor its Regulation Services Provider (as that term is defined in the policies of the TSX Venture Exchange) accepts responsibility for the adequacy or accuracy of this release.

Forward-looking information

All statements included in this press release that address activities, events or developments that the Company expects, believes or anticipates will or may occur in the future are forward-looking statements. These forward-looking statements involve numerous assumptions made by the Company based on its experience, perception of historical trends, current conditions, expected future developments and other factors it believes are appropriate in the circumstances. In addition, these statements involve substantial known and unknown risks and uncertainties that contribute to the possibility that the predictions, forecasts, projections and other forward-looking statements will prove inaccurate, certain of which are beyond the Company's control. Readers should not place undue reliance on forward-looking statements. Except as required by law, the Company does not intend to revise or update these forward-looking statements after the date hereof or revise them to reflect the occurrence of future unanticipated events.