Structurally Controlled Hydrothermal Alteration Associated with Faulted Graphitic Stratigraphy
Project Expanded by Staking 1,187 Hectares; Adding Priority Targets
Vancouver, Canada, August 10, 2023 – CanAlaska Uranium Ltd. (TSX-V: CVV; OTCQX: CVVUF; Frankfurt: DH7N) ("CanAlaska or the "Company") is pleased to announce successful completion of the 2023 drill program at the Geikie project near the Athabasca Basin margin (Figure 1). The program focused on a 15-kilometre-long northeast trending conductor system with high-priority structural targets that were compiled from recent high-resolution airborne radiometric, magnetic, and electromagnetic surveys in combination with prospecting, structural mapping, and historical data review. The Company reports the objectives of the program were exceeded, identifying graphitic host rocks with large reactivated and brecciated fault zones, associated with hydrothermal alteration and elevated radioactivity.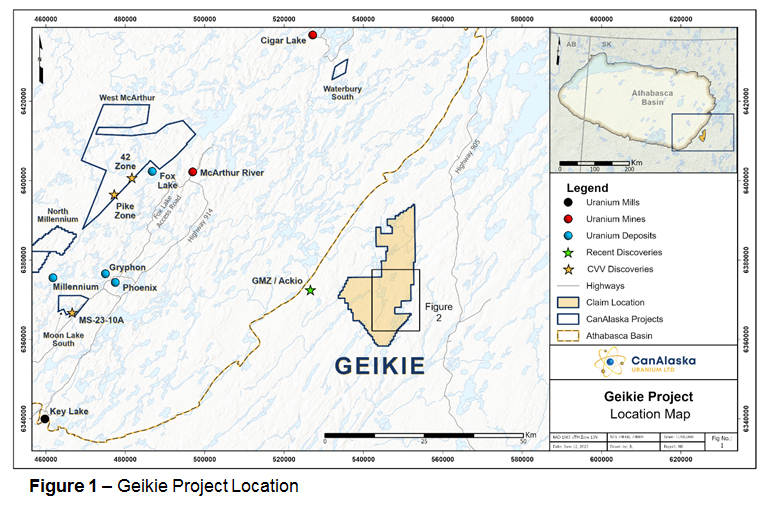 2023 Geikie Summer Drill Program
The Geikie project is located approximately 10 kilometres east of the Athabasca Basin margin and 10 kilometres west of Highway 905. The 2023 summer drill program consisted of 2,217 metres in eight drill holes, representing CanAlaska's first drill holes on it's 60%-owned Geikie project. The program successfully intersected graphitic host rocks, showing evidence of multiple post-Athabasca structural reactivation events, associated with the intersection of north-south and northwest trending faults, hydrothermal alteration, and elevated radioactivity.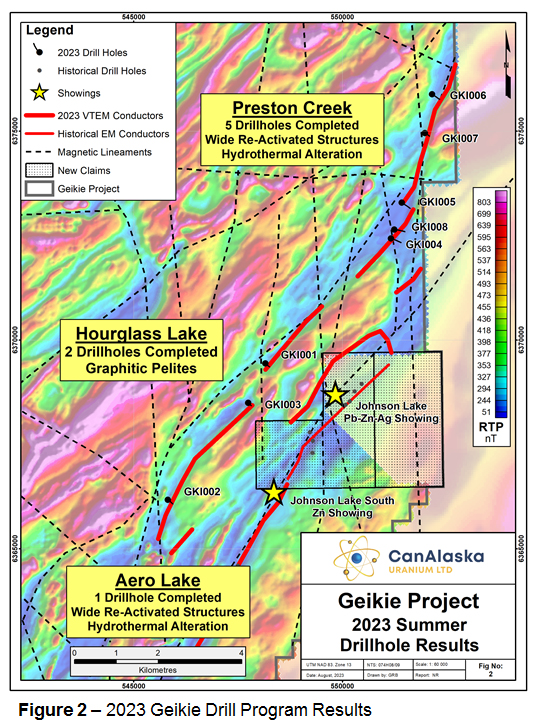 The drill program confirmed the presence of hydrothermal alteration systems within a complex structural framework at Geikie, which is important in the formation of basement-hosted high-grade uranium deposits.
Results of this first drill program will allow for refinement of the exploration model on the Geikie project to target the most prospective portions of the multiple structural corridors. Significant early results from the Preston Creek target area indicates the 15-kilometre-long structural corridor represents a high priority target area for further drill testing (Figure 2).
Geochemical assay results for the 2023 program are pending.
2023 Geikie Summer Drill Program Target Area Results Summary
The Preston Creek target area is located at the northeastern end of the 15-kilometre-long conductor trend. Five drill holes (GKI004 – GKI008) were completed within this target area (Table 1). Each drill hole in this target area intersected re-activated basement faults, up to 30 metres in width, consisting of clay gouge and breccias within variably graphitic pelitic host rocks. Hydrothermal alteration enveloping the major fault zones consisted of hematite, chlorite, clay, and structurally-enhanced graphitic clays. Within the fault zones, the alteration intensifies and locally overprints the original host rock through numerous phases of faulting and fluid circulation (Figure 3). At the base of GKI004, an extensive zone of pervasive hematite alteration was intersected at the inferred contact between the Wollaston metasediments and Johnson Lake Granite. The 21-metre-thick interval was characterized by intense brick-red hematite completely overprinting the primary texture of the host rock. Abundant interstitial specular hematite and pyrite nodules were disseminated throughout the rock and as microfractures and fracture fillings. Additionally, in GKI005, elevated radiometry, up to 1,000 cps CT007-M, was intersected from 255.3 to 255.6 metres, associated with a sheared graphitic pelite. The complex structural framework of the Preston Creek target area with the associated hydrothermal alteration is very encouraging for the prospectivity of this portion of the 15-kilometre-long conductor trend and the broader project area.
The Aero Lake target area is located at the southern end of the 15-kilometre-long conductor trend. One drill hole (GKI 002) was completed within this target area (Table 1). GKI002 intersected a large re-activated fault zone from 59 to 88 metres characterized by cohesive breccias and cataclastic faults with dark grey clay gouge. Hydrothermal alteration spatially associated with the fault zone consists primarily of clay alteration and chloritization. At the base of GKI002, elevated radiometry, up to 1,750 cps CT007-M, is associated with semi-massive biotite in a pegmatite unit from 185.0 to 185.6 metres.
The Hourglass Lake target area is located midway along the 15-kilometre-long conductor trend. Two drillholes (GKI001 and GKI003) were completed within this target area (Table 1). Each drill hole intersected intervals of weakly to moderately graphitic pelite with only minor structural reactivation. The inferred offset of the conductor package identified from the VTEM survey has not yet been explained.
All reported depths and intervals are down hole depths and intervals, unless otherwise noted, and do not represent true thicknesses, which have yet to be determined.
CanAlaska CEO, Cory Belyk, comments, "The presence of large fault structures, hydrothermal alteration and elevated radiometric values is a great outcome from this first drilling program by CanAlaska and Basin Energy. The early drill results clearly indicate the right ingredients for basement-hosted uranium deposit formation are present and active on the Geikie project. This first exploration program has tested a very small portion of this very large project and there is very little doubt that further data analysis when assays are returned in conjunction with new geophysical data will yield additional high priority targets for the next phase of exploration."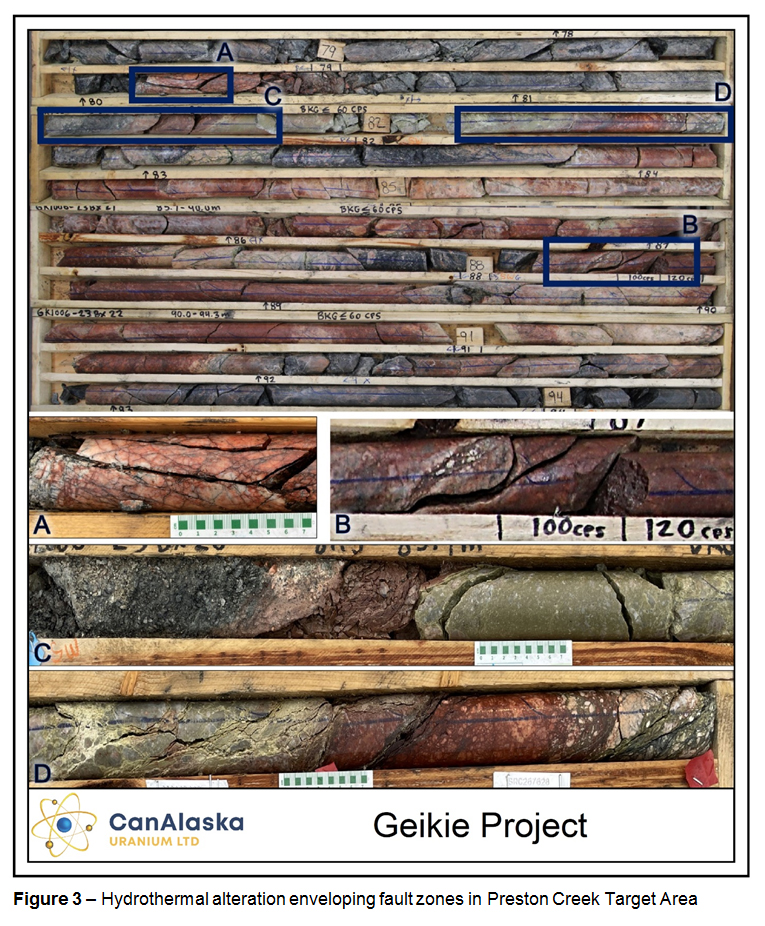 Geikie Project Expansion
The Geikie uranium project was recently expanded through claim staking to add two additional claims (Figure 2) totalling 1,187 hectares, now bringing the total Geikie project size to 35,084 hectares. The new claims are host to the historical Johnson Lake (Marina) Pb-Zn-Ag showing which consists of mineralization in outcrops, boulders, and drillholes. The mineralization occurs as disseminations, layers, and coarse pod-like segregations in addition to infills along fractures. Historical grab samples returned up to 5.31% Pb, 1.49% Zn, and 1.0 oz/t Ag. The additional claims have been added to the existing earn-in agreement between Basin Energy and CanAlaska.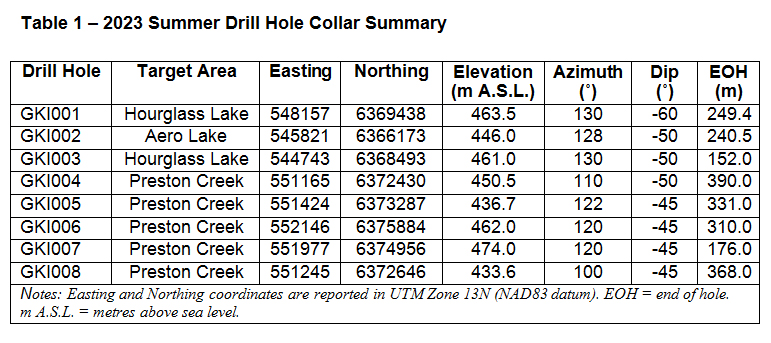 Geikie Project Overview
The Geikie Project is located just outside the eastern margin of the Athabasca Basin within the Wollaston Domain. The Project area has been subject to minimal exploration for uranium, with most significant work targeting base metals between 1967 and 1980. During this regional work, a series of mineralized showings were discovered in the Mud Lake and Johnson Lake South (Marina South) areas. The Mud Lake uranium-molybdenum showing recorded a series of anomalous rock chips with grades of up to 0.225%U, 5.2%Mo, and 1.4%Cu. The Johnson Lake South (Marina South) lead-zinc prospect recorded anomalous mineralization in outcrop of up to 2.03% Pb, 7.2% Zn and 0.93 oz/t Ag. Recent ground prospecting on the project has since confirmed the Mud Lake uranium-molybdenum, showing results with up to 3,250 ppm molybdenum total and 0.21% uranium total in grab samples.
The primary target on the Geikie project is basement-hosted uranium mineralization, where uranium bearing structures intersect favourable metasedimentary host rocks. The Geikie project is located within 10 kilometres of recent discoveries of basement-hosted uranium mineralization at the nearby Gemini Mineralized Zone ("GMZ") and ACKIO. These recent discoveries along with known mineralization at the nearby Agip-S and West Way prospects, all underscore the prospectivity of this portion of the Wollaston Belt.
The Geikie project is currently being sole-funded by Basin Energy Limited (ASX: BSN) under an option earn-in agreement with the Company.
Geochemical Sampling Procedures
All drill core samples from the 2023 program were shipped to the Saskatchewan Research Council Geoanalytical Laboratories (SRC) in Saskatoon, Saskatchewan. The samples were shipped in secure containment for preparation, processing, and multi-element analysis by ICP-MS and ICP-OES using total (HF:NHO3:HClO4) and partial digestion (HNO3:HCl), boron by fusion, and U3O8 wt% assay by ICP-OES using higher grade standards. Radiometric assay samples are chosen based on downhole probing radiometric equivalent uranium grades and scintillometer (SPP2 or CT007-M) peaks. Assay samples comprise 0.3 – 0.5 metre continuous split-core samples over the mineralized interval. A 0.1% U3O8 cut-off with a maximum internal dilution of 1 metre is used for compositing and reporting the data. The SRC is an ISO/IEC 17025/2005 and Standards Council of Canada certified analytical laboratory. Blanks, standard reference materials, and repeats are inserted into the sample stream at regular intervals by CanAlaska and the SRC in accordance with CanAlaska's quality assurance / quality control (QA/QC) procedures. Geochemical assay data are subject to verification procedures by qualified persons employed by CanAlaska prior to disclosure.
About CanAlaska Uranium
CanAlaska Uranium Ltd. (TSX-V: CVV; OTCQX: CVVUF; Frankfurt: DH7N) holds interests in approximately 350,000 hectares (865,000 acres), in Canada's Athabasca Basin – the "Saudi Arabia of Uranium." CanAlaska's strategic holdings have attracted major international mining companies. CanAlaska is currently working with Cameco and Denison at two of the Company's properties in the Eastern Athabasca Basin. CanAlaska is a project generator positioned for discovery success in the world's richest uranium district. The Company also holds properties prospective for nickel, copper, gold and diamonds.
The qualified technical person for this news release is Nathan Bridge, MSc., P.Geo., CanAlaska's Vice President, Exploration.
For further information visit www.canalaska.com

On behalf of the Board of Directors
"Cory Belyk"
Cory Belyk, P.Geo., FGC
CEO, President and Director
CanAlaska Uranium Ltd.


Contacts:
Neither TSX Venture Exchange nor its Regulation Services Provider (as that term is defined in the policies of the TSX Venture Exchange) accepts responsibility for the adequacy or accuracy of this release.

Forward-looking information

All statements included in this press release that address activities, events or developments that the Company expects, believes or anticipates will or may occur in the future are forward-looking statements. These forward-looking statements involve numerous assumptions made by the Company based on its experience, perception of historical trends, current conditions, expected future developments and other factors it believes are appropriate in the circumstances. In addition, these statements involve substantial known and unknown risks and uncertainties that contribute to the possibility that the predictions, forecasts, projections and other forward-looking statements will prove inaccurate, certain of which are beyond the Company's control. Readers should not place undue reliance on forward-looking statements. Except as required by law, the Company does not intend to revise or update these forward-looking statements after the date hereof or revise them to reflect the occurrence of future unanticipated events.