Falcon Airborne Survey to Extend Existing Targets and Generate New Targets for Drilling
Two Drill Program Underway at Pike Zone Discovery on West McArthur JV Project
Vancouver, Canada, August 22, 2023 – CanAlaska Uranium Ltd. (TSX-V: CVV; OTCQX: CVVUF; Frankfurt: DH7N) ("CanAlaska or the "Company") is pleased to announce it has commenced a detailed fixed-wing Falcon Airborne Gravity Gradiometer (AGG) survey on it's Geikie uranium project (the "Project") near the Athabasca Basin margin (Figure 1). The survey consists of 1,838 line-kilometres of airborne surveying at 200 m spacing across the majority of the Geikie project (Figure 2). The purpose of the AGG survey is to identify potential target areas of enhanced basement alteration associated with previously interpreted and drill defined structural corridors.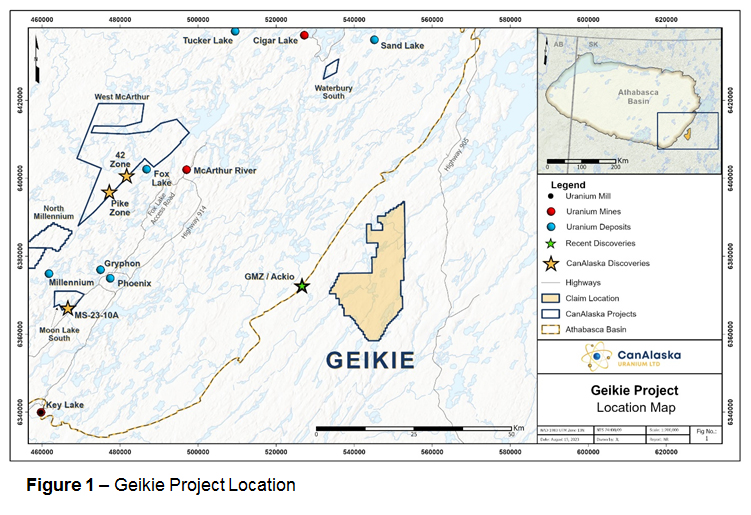 The Company recently announced results from the 2023 summer drill program representing CanAlaska's first drill holes on the Geikie project. The drill program was focused on a 15-kilometre-long conductive structural corridor with three main target areas. Results from the program confirmed the presence of hydrothermal alteration systems hosted within a complex structural framework at Geikie which is important in the formation of basement-hosted high-grade uranium deposits. Drillholes intersected graphitic host rocks, showing evidence of multiple post-Athabasca structural reactivation events along north-south and northwest trending faults, hydrothermal alteration, and elevated radioactivity.
Early results from the Preston Creek and Aero target areas, specifically the hydrothermal alteration associated with structures, suggest that AGG surveying is an optimal geophysical tool to refine future drill targets. The AGG survey is designed to identify potential target areas where basement alteration intensifies adjacent to and within drill confirmed and regional interpreted structures. AGG surveys are focused on identifying gravity lows which are interpreted to be caused by hydrothermal fluids altering basement rocks to clay. The survey method is a proven effective tool in the exploration for basement-hosted high-grade uranium deposits in the Athabasca Basin, specifically in areas where no Athabasca sandstone cover is present. Gravity surveys have been successfully used 10 kilometres west of the Geikie project on the GMZ / ACKIO discovery, which is associated with a well-defined gravity low anomaly.
Once completed, the AGG survey results will be combined with additional high-resolution airborne geophysical data sets previously collected, including electromagnetics, radiometrics, and magnetics to validate existing targets and generate additional targets for future drill programs.
The AGG survey is being conducted by Xcalibur Multiphysics of Mississauga, Ontario. The Geikie project is currently being sole-funded by Basin Energy Limited (ASX: BSN) under an option earn-in agreement with the Company.
CanAlaska CEO, Cory Belyk, comments, "I am very pleased with the teams focus on developing additional high priority drill targets on the Geikie project through completion of this critical gravity survey program. Results from this work will add immense value for optimizing future drill program targeting across this very large and underexplored project area that lies near the heart of the 'Saudi Arabia of Uranium', the eastern Athabasca Basin."
The Company has started drilling at its West McArthur uranium project in the Eastern Athabasca Basin. The primary objective of the drill program is advancing the Pike Zone discovery, including continued focus on expansion of basement-hosted high-grade uranium mineralization as well as continued unconformity target testing. In addition, the Company has identified a series of high-priority resistivity drill targets along the C10S mineralized corridor, the most compelling located approximately 1.8 kilometres northeast of the high-grade Pike Zone uranium discovery.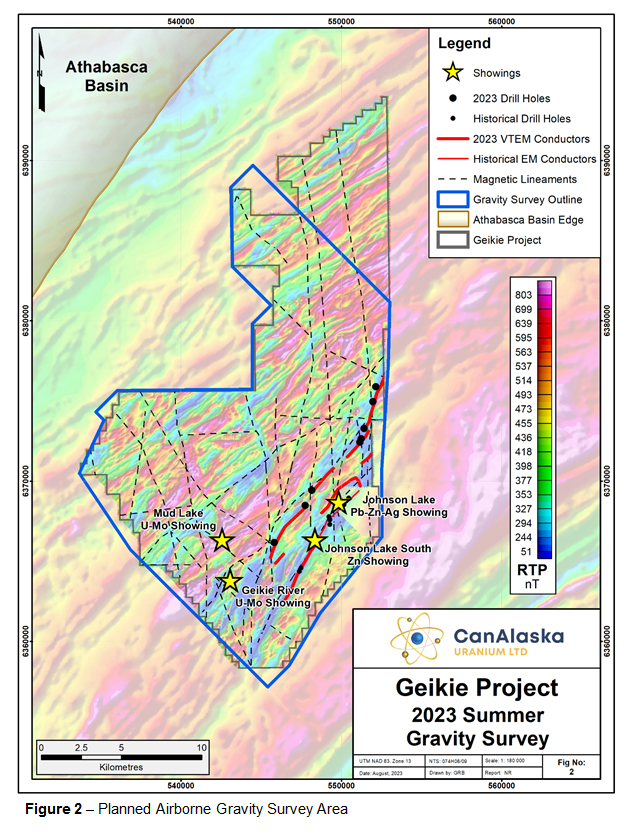 About CanAlaska Uranium CanAlaska Uranium Ltd. (TSX-V: CVV; OTCQX: CVVUF; Frankfurt: DH7N) holds interests in approximately 350,000 hectares (865,000 acres), in Canada's Athabasca Basin – the "Saudi Arabia of Uranium." CanAlaska's strategic holdings have attracted major international mining companies. CanAlaska is currently working with Cameco and Denison at two of the Company's properties in the Eastern Athabasca Basin. CanAlaska is a project generator positioned for discovery success in the world's richest uranium district. The Company also holds properties prospective for nickel, copper, gold and diamonds.

For further information visit www.canalaska.com
The qualified technical person for this news release is Nathan Bridge, MSc., P.Geo., CanAlaska's Vice President, Exploration.

On behalf of the Board of Directors
"Cory Belyk"
Cory Belyk, P.Geo., FGC
CEO, President and Director
CanAlaska Uranium Ltd.

Contacts:
Neither TSX Venture Exchange nor its Regulation Services Provider (as that term is defined in the policies of the TSX Venture Exchange) accepts responsibility for the adequacy or accuracy of this release.

Forward-looking information

All statements included in this press release that address activities, events or developments that the Company expects, believes or anticipates will or may occur in the future are forward-looking statements. These forward-looking statements involve numerous assumptions made by the Company based on its experience, perception of historical trends, current conditions, expected future developments and other factors it believes are appropriate in the circumstances. In addition, these statements involve substantial known and unknown risks and uncertainties that contribute to the possibility that the predictions, forecasts, projections and other forward-looking statements will prove inaccurate, certain of which are beyond the Company's control. Readers should not place undue reliance on forward-looking statements. Except as required by law, the Company does not intend to revise or update these forward-looking statements after the date hereof or revise them to reflect the occurrence of future unanticipated events.